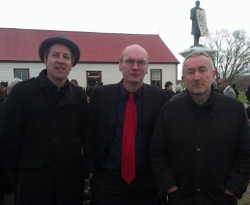 The entire team from HistoryWorks had the great privilege of travelling to Rukumoana Marae, near Morrinsville, on 18 July this year for the signing of the Ngati Haua deed of settlement and formal apology from the Crown.
The date for the occasion had been specially selected to mark the anniversary of one of several petitions filed by the great Ngati Haua rangatira Wiremu Tamihana on 18 July 1865. In his petition, Wiremu Tamihana referred to the anguish of being called 'an evil man, a rebel' and a murderer. He called on the government to establish an independent inquiry into the causes of the Waikato War and to restore the lands wrongly confiscated from Ngati Haua and other Waikato Maori.
Rukumoana MaraeAlthough the Crown rejected Wiremu Tamihana's pleas, the apology read out to the large crowd assembled at Rukumoana Marae by Treaty Negotiations Minister Chris Finlayson finally acknowledged the great injustices inflicted on Ngati Haua, who had been reduced to virtual landlessness through confiscation and other Crown actions.
(From left to right: Bruce Stirling, Vincent O'Malley, David Armstrong)
In addition to a formal apology, Ngati Haua received $13 million compensation, in addition to a range of cultural redress measures, as part of a fast-tracked settlement that was completed in a little over six months.
HistoryWorks assisted with research for the claim, along with drafting and negotiation of the agreed historical account with the Crown. [Added 27 July 2013]